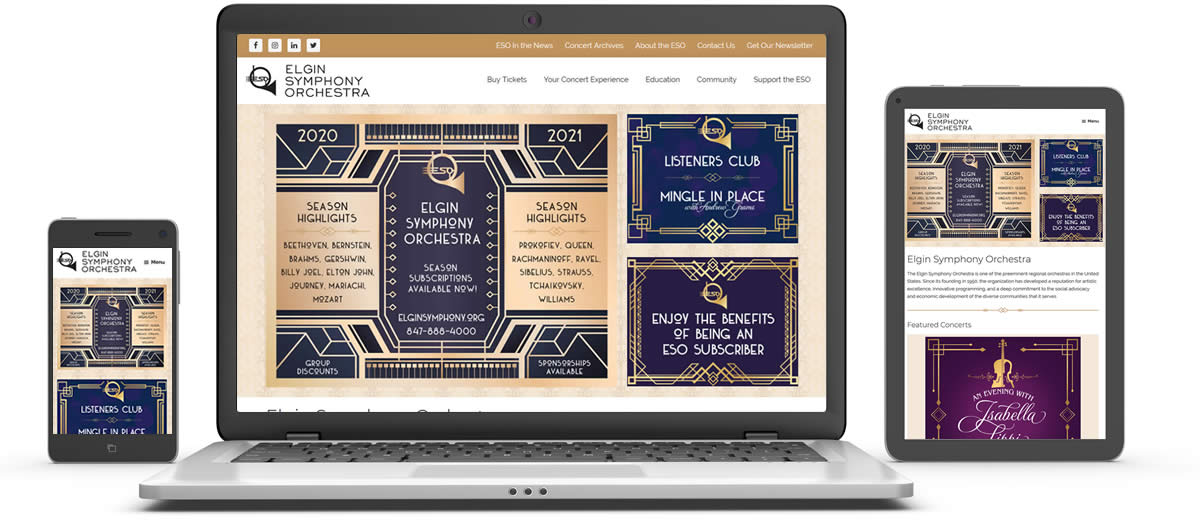 Elgin Symphony Orchestra
We built the last ElginSympony.org website back in 2015 and it's amazing how many changes have happened in the web design world since then. We were thrilled when the Elgin Symphony Orchestra came to Wolko Design Group and sitebyMIKE in 2020 to freshen up their site design.
We leveraged WordPress Custom Post Types back in 2015 to allow us to have a concert system that would automatically hide the concerts after each performance and remove the 'buy tickets' links from the listings. The added functionality added in 2020 allows us to list out each full concert season to allow concert goes to search for their favorite concerts.
We utilized the Gutenberg Block functionality to allow each concert page to contain more robust information and allow greater layout flexibility for each concert details page.
We converted our old custom concert listings template into a shortcode so we could easily insert other content around the listings at will.
The majority of the site design elements were shifted into the style sheets so we can provide a fresh theme update to the entire site easily for every concert season.
I love when I'm able to revisit a site years later and apply all of the improvements I've been dreaming of for years.