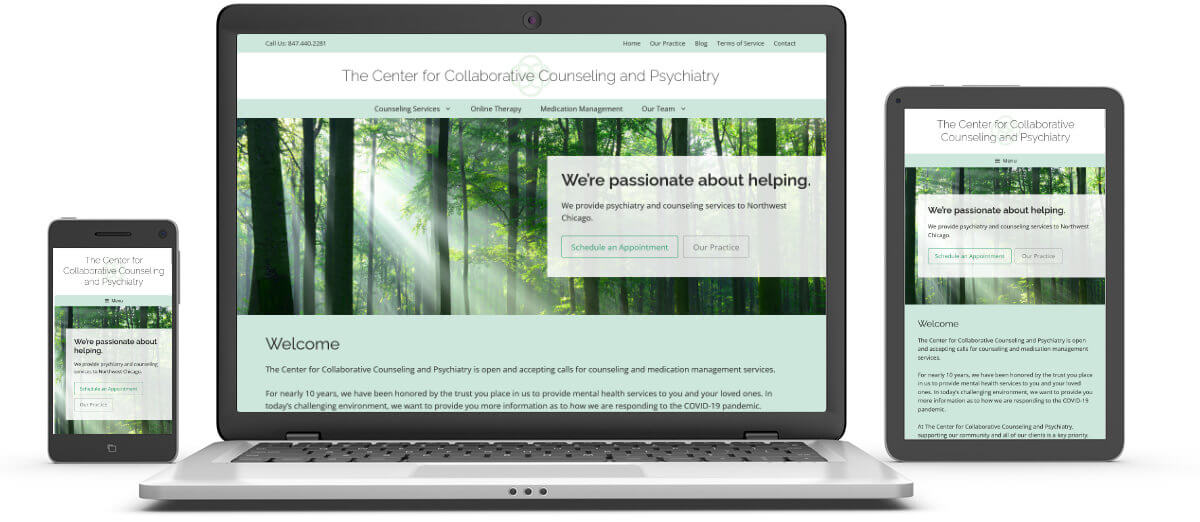 The Center for Collaborative Counseling & Psychiatry
I've been working with the Center for Collaborative Counseling and Psychiatry for several years. They came to sitebyMIKE when they needed a reliable webmaster to help them manage and maintain a site built by a different designer.
After a couple of years it became apparent that the site would need to be migrated off of the themes and builders used by the prior developer as they were no longer being updated and would not be compatible with the latest version of WordPress. Luckily this coincided with their plans to expand into a new office space, so a site redesign was planned.
Whenever I redesign a website I strive to make it look like an evolution of their old site (assuming the client likes their old site and the team at 'The Center' did.) So I stuck with a 'woodland growth' motif for their new site, but leveraged a highly flexible theme that allowed us to place unique photos in the headers throughout the site to make each page feel welcoming to potential and existing clients. We also put a lot of attention into reorganizing the pages so the information was easy to browse.
During the rebuild process a lot of attention was put into page speed in order to deliver the best experience to their clients as well as improve Search Engine Optimization (SEO). Pre-existing plugins were swapped out for faster and better supported alternatives.
It's wonderful when a client likes your design so much that they start making plans for the next round of revisions. The team at the Center for Collaborative Counseling and Psychiatry says they plan to take new headshots in the Spring, so we held back on extensively redoing those pages until after the new photos are available.